JAOS 25th Anniversary Reception
About JAOS
Established in 1991, our mission is to promote the healthy development of the study abroad industry in Japan by establishing ethical best practice guidelines for organizations, educating and training study abroad counselors and advisors, and engaging in various other promotional activities to increase awareness of, and further the development of a safe and rewarding environment for Japanese study abroad students.
Recognized by the Japanese government as a General Incorporated Association in 2008, JAOS membership consists not only of private companies but also includes public organizations such as the Australian Embassy Marketing Office and the British Council, as well as various trade-related associations. As of 2014, total membership now exceeds 60 organizations. JAOS is also an active member of the international association FELCA (The Federation of Education and Language Consultant Associations). By representing Japan through this membership, JAOS is able to educate and promote Japanese market needs to industry providers and assist them in developing the optimal study abroad environment for Japanese study abroad students.
Japanese student from JAOS
64,988 Japanese students studied abroad through JAOS member agencies.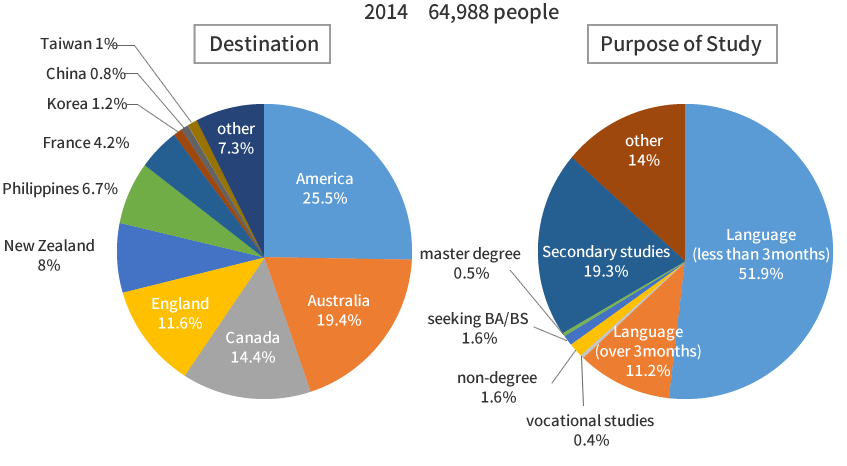 JAOS – What we do
We work proactively to improve the overall quality of service across the entire study abroad industry in order to create a study abroad experience free of worry. Through collaboration and cooperation, and by breaking down the barriers and borders of companies and organizations, we aim to provide all students with peace of mind and a rewarding and meaningful study abroad experience.
■ Establishing best
  practices for study
  abroad
JAOS has established a guideline and best practices for study abroad organizations, so as to ensure the healthy and transparent operations of companies in this industry. JAOS members must sign this guideline and adhere to it.
Learn More ≫
■ JAOS training and
  certification for study
  abroad counselors
As a result of our abundant experience and past achievements in this area, our training courses and certification system are both supported and recognized by domestic and overseas networks.
Learn More ≫
■ Collaboration and
  cooperation with
  embassies
In order to effectively assist study abroad students, we must provide accurate information about their destination country in a timely manner. JAOS not only keeps open lines of communication with embassies and Ministries of Education in various countries but also engages in regular networking meetings with them.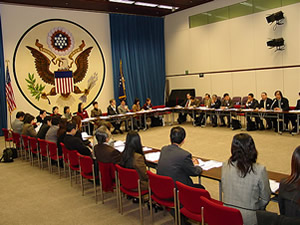 Chronology
Since our establishment 25 years ago, we have worked in various areas to create an environment for people to study abroad with peace of mind.

Here is an overview of our activities.
Learn More ≫
Preface to the 25th anniversary of JAOS
■ Greetings from the organizer



JAOS Chairman
Masaru Yamada

Consultation services for those interested in studying abroad started in the early 1970s. Over time, those services evolved and expanded to include the provision of information, administrative work, and other consultation services. In the 1980s, the business of assisting and advising people with regard to study abroad took a form that is similar to what we have now. However, as new services were introduced, it became necessary to develop industry standards and best practices. After a few years of preparation, JAOS was launched in the 1990s as an organization to oversee this business area. It has been a quarter-century since then, and we have now connected with other similar organizations around the world that were established at around the same time to launch a global network and unified presence to represent the study abroad industry. As we globalize education, we not only need to provide detailed, individualized care for students but must also maintain a great big vision for the future. We believe that JAOS has an important role in these logistical aspects related to the field of networking, and we are committed to the further development and progress of our industry through collaboration with all stakeholders.
■ Congratulatory message
It is a great honor to be asked to deliver a congratulatory message to JAOS on its 25th anniversary. After falling into a recession and experiencing difficult economic times, the world has been advocating the globalization of education and I hold tremendous respect for the cooperation and collaboration that has been demonstrated between both nations and industry groups to support our students.

When I was at the Ministry of Education, Culture, Sports, Science and Technology (MEXT), we started the 「トビタテ!留学JAPAN – Tobitate! Ryugaku Japan」 study abroad program in order to address the urgent issue of fostering a more global workforce for Japan. As the speed of which things develop increases at an unconventional rate, the world continues to undergo drastic change these days. Thus, we will require individuals who can not only understand, be sensitive to, and respect other cultures, but also have pride in our country's history and culture, which will enable them to speak confidently, openly, and knowledgeably in international arenas for our country's future economic growth and development.

By further promoting this program, and maintaining the ongoing cooperation between industry, academia, and government to create a framework that will allow young Japanese people with ambition and ability to not only study overseas, but also gain confidence and pride in themselves, we believe that we are both adding great value to their education and creating a strong foundation for our country's future.

Once again, congratulations to JAOS on this very remarkable accomplishment, and I pray for the further development and growth of your organization in the future.




Former Minister of Education, Culture, Sports, Science and Technology
Acting Chief Secretary, Liberal Democratic Party
Member of the House of Representatives
Hakubun Shimomura



British Council
Director, Japan
Matt Burney

On behalf of the British Council I would like to wish JAOS many congratulations on its 25th anniversary and to express our thanks to JAOS members for their huge contribution to promoting study abroad.

In recent years, the importance of gaining study abroad experience has become well-recognised in Japan and this is in no small part thanks to the activities of JAOS and its members. The British Council values diversity and works to build trust and mutual understanding between the UK and other countries. We firmly believe that JAOS, through its comprehensive support for study abroad over the last 25 years, has contributed greatly to fostering trust and mutual understanding between Japan and other countries. We also believe that the continued support provided by JAOS will be key to expanding the study abroad market in Japan and increasing the provision of study abroad opportunities for Japanese students.

We look forward to seeing JAOS and its members continue to flourish in the years to come.
■ Messages from study abroad industry friends
Contribution to industry
JAOS is a member of FELCA
www.felca.org

FELCA(The Federation of Education and Language Consultant Associations)
Sponsors